We're in Florida… Checking out the Flooring Trends!
Greetings from sunny Florida! Nope, we're not down here for the Clemson vs. Alabama football, we are here to check out the exciting newest style and building trends for 2017 at the NAHB International Builders Show. When we first arrived, we went straight to the Mohawk showroom to check out the latest flooring trends. At Melton Interiors, flooring is a big part of what we do. We believe that flooring is perhaps the most important part of your home, because it's next to the foundation, and it endures the most contact with you as you live in your kitchen, bathroom, entryways, living spaces and other high traffic areas where things are spilled, dropped, and dragged on a daily basis. It is important to have a floor that you don't have to worry about becoming damaged, dented, scratched, or faded over time. Floors also need to be beautiful, because they cover so much surface area in our homes.
Beyond our care for the way your home looks and the durability of materials, flooring is important to us for personal reasons. Melton Interiors has ties to a family business that specialized in flooring products decades ago. Over the years, we have watched flooring trends change and evolve with new technologies and development of newer, more durable materials playing a big part of the transitions. We enjoy watching the industry evolve and develop to suit modern lifestyles and trends. Of course basic wood and durable tile floorings are the classics. Combining the two has been a recent focus by major flooring manufacturers. You might have noticed that more and more products are being developed which simulate the beauty of wood while performing like tile – a material appreciated for its durability. Recently developed vinyl products combine the texture and feel of wood with the durability and strength of ceramic tile. A major benefit of vinyl flooring as opposed to wood is that vinyl is not damaged by water the way wood is… our findings at the Mohawk showroom prove that it is actually waterproof! We discovered an exhibit with a water fountain pouring onto the vinyl flooring product, leaving the material intact and damage-free. Check out the video we posted on Facebook!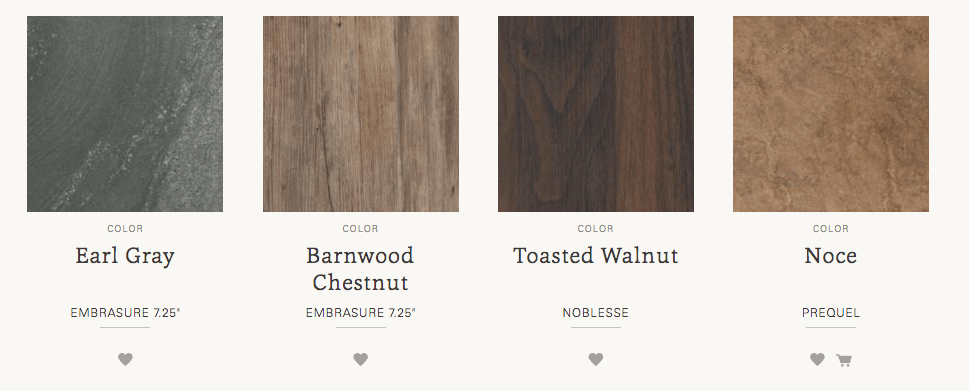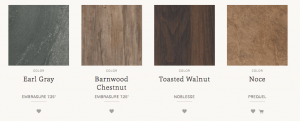 As we moved through the Mohawk showroom of the International Housing Trade Show, we took note of the color trends and flooring styles that will be popular in 2017. Over the last year or two, grey has become a popular color. It appears that there will be longevity to this trend, based on our observations. The neutral grays were on display along with the herringbone and wood plank style patterns. Aged or distressed wood looks are obviously carrying into 2017, as well.
A Popular Choice for 2017: LVT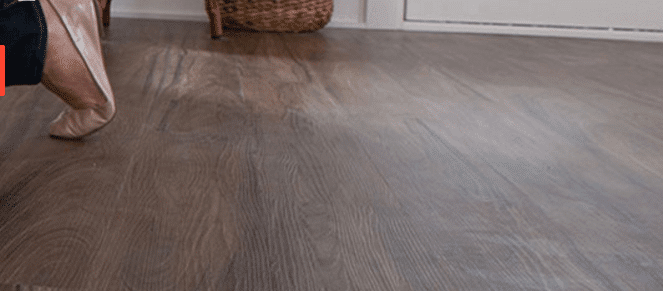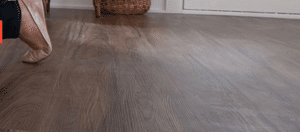 LVT stands for Luxury Vinyl Tile. With this product, you can get a realistic wood-look or natural stone appearance. Unlike tile, LVT flooring is not cold or hard underfoot. Yet, like tile, it is easy to care for and durable. The Mohawk brand of vinyl flooring claims to be more resistant to heat and sunlight, maintaining its shape and stability even at temperature extremes. Having dealt with a variety of manufacturers, we trust the Mohawk brand as being a popular, high quality choice. They offer such a broad range of beautiful finishes.
Since vinyl is waterproof, which makes it perfect for kitchens or other high-traffic areas such as a living room or den. Remodeling an office? Luxury vinyl flooring might be your best option there, as well. With this product, the protective top layer resists scratches and dents. In your home, this product is not destroyed by stains from family pets, which is often the case with carpeting or wood floors. Being exceptionally easy to clean, and unfazed by drops and spills, LVT is definitely the top trend for today's very busy modern family.
Learn More
About the show: https://www.buildersshow.com/Home/
About the products discussed in this blog: https://www.mohawkflooring.com/flooring/luxury-vinyl-tile